So was seeing a bunch of talk on my Facebook group (The BX'er Network) and a couple of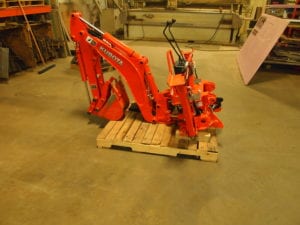 other Kubota groups and saw how some people were storing there Backhoes for winter and building some nice carts for rolling them around in there own shops and garages. Which is a nice product I'd like to explore one day. But anyway I wanted to put something out there showing what I ended up doing with the backhoe for the winter. Had the space to do it and it worked out good.
So found a nice and sturdy pallet I had here and set it behind the tractor and began the process to remove the backhoe. Dropped the bucket to the back edge of the pallet and then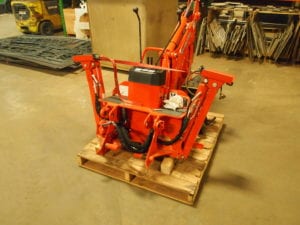 dropped the outriggers to rotate the backhoe off the mount and then pulled the tractor ahead. Once it was clear I had cut a couple of 4×4 block to shim under the backhoe frame and then proceeded to lift the outriggers back up which in turn dropped the backhoe frame down to the block sitting there. Got it dropped into place and then made a couple of adjustments to the bucket and bame!!! It was done!! Put  small ratchet strap across the outrigger pads and put a little tension in them but just enough to hold them in place. So I shock the backhoe around a little to make sure it would fall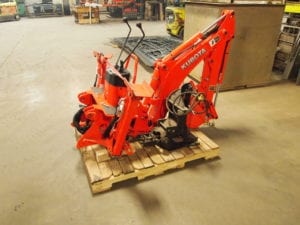 off the pallet and then actually let it set on the ground overnight just to see if it would relax in any weird way. But came back the next morning and it was still sitting the way I left if. So I had cleared a place at the top of my pallet racking and set it up there and it's been working good so far!!! The top of the racking is at 14′ so not that tall overall but still up there. The rack is rated for 20,000 Lbs overall so this little guy does even phase it. So it worked out nice and easily taken down and put back on the tractor if I need to before spring!! I also have the mower deck on a pallet on another set of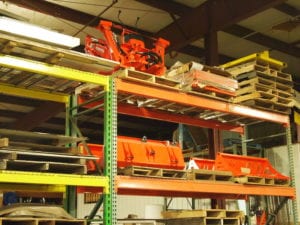 pallet racking right next to this one.
Worked out great and probably will do this every year. Still want to have a cart for rolling it around in the summer when its off. Or i'll just set it on the pallet again and move it with the forklift when needed!!! Thanks for checking us out here at Ai2 Products!!!